The best cannabis business social network is the one that meets your specific needs as an entrepreneur in the legal cannabis industry. Before you can make an informed decision about which one will suit you best, it's important to know what these sites are, how they work and how you can leverage them in your business or career.
What Are The Benefits Of A Cannabis Business Social Network?
Cannabis business networks offer a great way to connect with like-minded people and promote your business. 
There are many benefits of using cannabis business social networks, including:
Helping you find partners and clients;

Providing potential customers with useful information;

Supporting local businesses;

Allowing sellers to showcase their products and services;

Acting as a resource for updates on legislation in your area.
The following are some of the best cannabis business social networks: 
These sites all have different features that cater to different needs; it's up to you to decide which one is right for you! For example, if you're looking for connections or want to talk about new developments in the industry, then HempTalk might be a better option than Leafwire. 
If you need somewhere to buy products, Weedable will help you out. MjLink has become more of an educational website in recent years, focusing less on buying and selling items. 
When choosing the best cannabis business social network for your purposes, it's important to consider what kind of networking opportunities you're interested in. Be sure to do research before signing up so that there aren't any surprises. 
It would also be beneficial to try the site out first by joining and taking a tour of its features, since not all websites may be suited for your specific use case. 
You'll also want to ask yourself if you're comfortable sharing personal details online or posting content that could potentially come back to haunt you later on. Privacy settings can make this easier, but they may not always work depending on how strict they are! 
Don't forget that each site will have its own policies regarding things like public photos, payments, and promoting competitors' goods.
In general, cannabis business social networks are great because they allow you to connect with fellow entrepreneurs who are working on similar projects. This can help you stay up-to-date with information that might affect your company's success, or offer assistance if you're having any difficulties running your business. 
It doesn't matter what type of company you work for or are starting; chances are there's a cannabis business social network out there for it. Another good thing about these platforms is that they're not only geared toward helping people in the cannabis industry. 
It could also be beneficial for those who want to invest in a company, offer services like marketing or advertising, or are just curious about how marijuana works. 
Should I Sign Up For A Cannabis Business Social Network?
Social networks have been a boon for cannabis businesses. It's a great way to advertise, make connections, and build your brand. However, there are a lot of cannabis business networks out there, so it can be hard to know which one to sign up for. 
You want one that will provide the best value for your company, while also providing you with the most relevant information at the same time.
A lot of people make the mistake of thinking that the cannabis business network is only for marijuana-related companies. But if you have an idea for a business that could work in any industry, you can join one.
Types of 420-focused Social Networks
The idea behind the cannabis business social network is to help members connect with each other and build relationships by sharing ideas, tips, and even leads. It's also about learning from other members and finding ways to help them grow their businesses.
There are two types of cannabis business networks — and we're not just talking about the Facebook-like ones:
The online network where you can choose who you want to connect with and build relationships with;
Offline networking where you attend events together as well as meet in person at conferences or trade shows.
Cannabis business social networks are worth exploring. The networks can be very helpful in getting your business off the ground, especially if it's your first foray into the industry. 
Some networks might charge annual fees while others are free. And some allow you to invite other people without paying a fee while others require an upfront payment. So again, research is key when it comes to choosing the right cannabis business network.
What works best for someone else may not work as well for you. Ask yourself what you need and then research to find the best answer. 
MjLink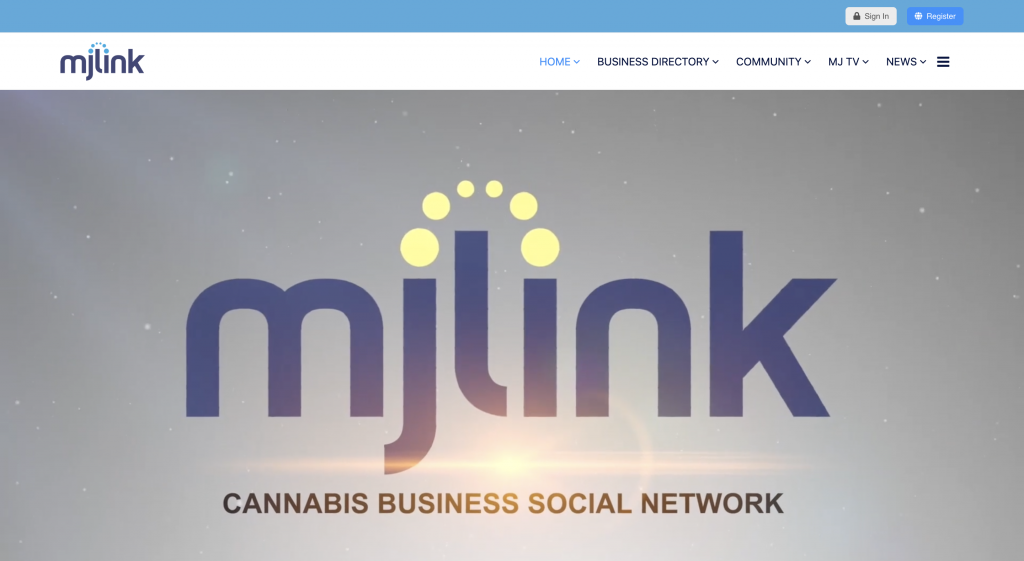 MjLink is a social network that connects cannabis businesses and consumers. They're a cannabis business social network that is fully dedicated to the cannabis industry.
It has 4 separate industry networks included in the platform:
B2B;

C2C;

B2C;

Investors.
The MjLink Platform allows members to share news, photos, and videos, connect with friends and experts in the industry, participate in polls about legal cannabis topics like legalization or regulation, keep up with announcements from government agencies, and much more!
With so many platforms out there, it's hard to decide what makes this one different. And by the way, they are completely free. You'll never find a premium service there. 
WeedLife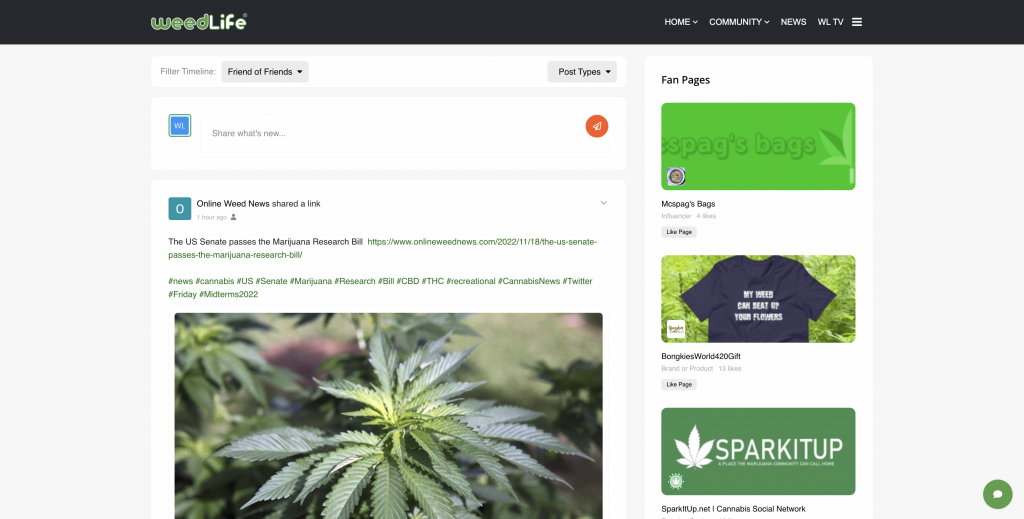 A division of MJLink, WeedLife is sometimes called the cannabis facebook. Not that we've ever heard it, but it's really close to the truth: same rich feed options, same great  opportunities for business promotion and personal expression. Basically, you can do whatever you would do on any other social media there:
Start a chat;
Write a post;
Promote your products;
Talk to people;
Share links, pics, videos — whatever it is;
Argue with strangers in the comments.
Is it as big as Facebook? Nope, it's not, even though it's an international community with users in 120 countries of the world. However, it's as close as it gets in the cannabis world.
Note that personal profiles don't require any verifications before registering on WeedLife, but if you're a BUSINESS and want to promote your shop, dispensary, or anything — you'll have to get approval first. No fakes or scam accounts are allowed.
HempTalk
HempTalk is one great example of a cannabis business social network because it has a forum on ALL aspects of the cannabis industry, including not-so-popular topics, such as laws, activism, science, health and wellness, and more. 
Users can ask questions about anything related to the industry anonymously and get answers from other community members as well as experts within the field.  
HempTalk is an online hub for entrepreneurs who are looking to start or grow their businesses. They help them discover hemp-focused businesses, connect with fellow entrepreneurs and market themselves effectively.
The HempTalk community is made up of those who have been involved in the cannabis industry for years, as well as those who are just starting. They have a large group of investors and professionals who are interested in helping these new businesses thrive and grow.
HempTalk also has a thriving blog that provides you with in-depth information related to studies on cannabis, CBD, and new discoveries within the industry. They also have a full video section where you can learn more about these things. 
Grasscity Forum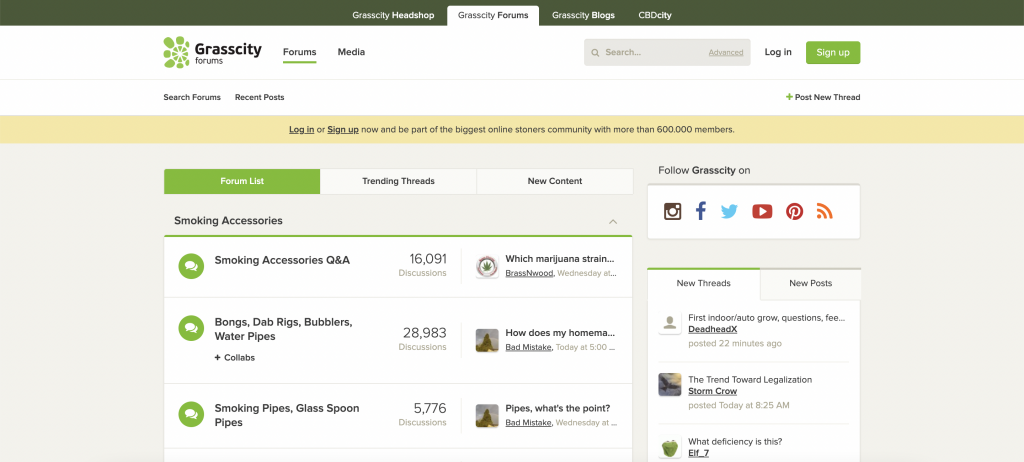 Grasscity Forum is a cannabis business social network and community that leaves you with no questions after you visit its platform. It's a community based on knowledge, experience, and passion. They are here to help you learn about cannabis, connect with other growers, and share your knowledge.
Some of the categories within the forum are:
Smoking accessories;

E-liquids;

Cannabis consumption;

Medicinal cannabis use;

Cannabis legalization and news;

Cannabis business and industry;

Trade shows;

Growing cannabis.
Grasscity has a lot of plans for the future. They want to continually improve their hub for everything cannabis related, from news to recipes, reviews, and more. They also want to help grow the industry by educating people on all aspects of cannabis cultivation and consumption.
With 22,333,000+ messages on the forum (to date) and almost 700,000 members — you can imagine the amount of information it contains. Spoiler: it's enormous.
The Grasscity forum is easy to navigate and is compatible with mobile devices. Just seeing the replies and views on each forum post reveals how active the users are on the platform.
If you're a new business owner, you can also choose to advertise with Grasscity. This can give your company the kickstart it needs in the industry.
Leafwire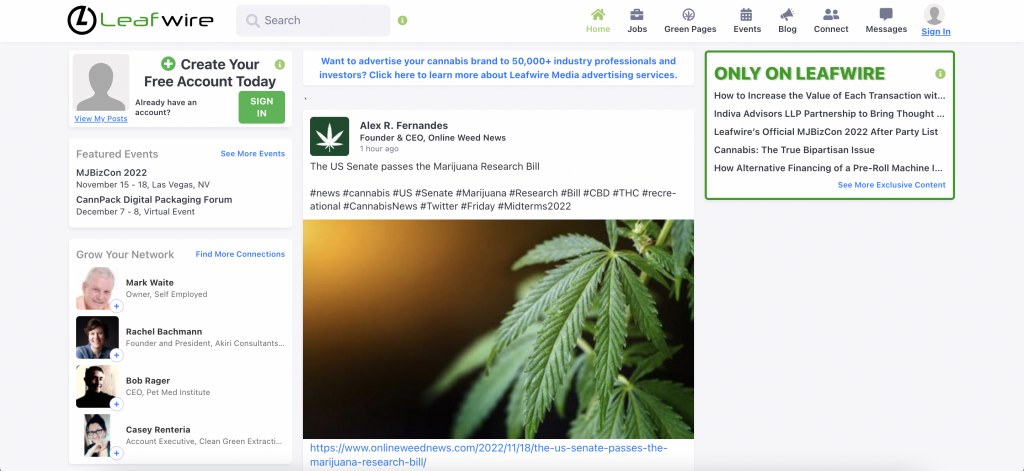 LeafWire is a cannabis business social network where users can share and discover cannabis jobs, events, news, and more. Users can build their profile with details such as their name, location, job title, and photos.
From the homepage, you'll find information on:
Interesting facts about the cannabis industry;

Upcoming trade shows around the country;

Legalization standards around the world;

Studies on various cannabis products.
Users can connect with other LeafWire members in the Cannabis Community to share information about jobs, events, and news in the industry.
One thing that sets Leafwire apart from some of the other platforms is that it has a strong emphasis on growing awareness about cannabis trade shows. 
As you scroll through the website, you'll quickly see a number of different trade shows being advertised, along with dates and times when they will be held. While you do have to create an account and sign in to take gain full access to the platform, you can get a glimpse of what it's about by scrolling down through the homepage.
Final Thoughts
Each cannabis business social network has its pros and cons. If you're starting a cannabis business or already have a solidified one, consider signing up for these networks to see which one works for you.